Search Results for: adrenus craton
At a time when Russia is making global headlines for all the wrong reasons, it is important to remember that, amidst all the wide-reaching political machinations and life changing military decisions, there are still people in every country with a story to tell.
With that in mind, FAULT was privileged to be able to speak to one of the one of the most influential voices in contemporary Russian popular culture – Mumiy Troll's Ilya Lugutenko. Since starting the band in 1983, Ilya – raised in Russia's Far Eastern port of Vladivostok (on the Sea of Japan) – has shaped the face of a generation. Mumiy Troll is as popular in Russia now as it has ever been. In total, they have released 16 albums over a period of almost 30 years. After initially serving in the Russian Air Navy, Lugatenko speaks Mandarin, has worked in both China and the UK, featured in the globally popular cult film 'Night Watch', recently started his own music festival and is an outspoken supporter for ecological conservation. Mumiy Troll were also one of the first musical acts to support the activities of PSI organization fighting AIDS in Russia.
It is a cosmopolitan story from a driven, complex and, above all, creative character. If nothing else, it is a pleasure to be able to take a step back to focus on an individual – their passions, achievements and creative spirit – rather than on the collective judgments of an entire nation.
FAULT: In 2012, you released your very first album in English entitled Vladivostok. Could you tell us a little more about the meaning of your single 'Love Contraband', which also appears on that album?
ILYA: These days Russia is usually associated with vodka, spies or oil fortunes …not even ballet anymore. I guess a Russian rock band is still not a very legit term for most westerners… I have a really simple message here – we love to write and perform good songs and would love to share them with as many people as possible.
Your songs sound like a romantic declaration to the world… can you tell us from where do you draw this romanticism?
I hate to hate anything. I would love to be able to love every single thing on the planet and beyond. I know it's not easy. I know it is almost impossible but I am still trying to be "the Poet and not a Revolutionary". I came from a little town on the sea, which happened to be major Russian navy base on the Pacific. I never wanted to jump on the Trans Siberian train. I was more curious about what was behind the ocean's horizon.
In 2012, you decided to release your first ever album in English [Vladivostok] – why?
I've never won a lottery. I'm a bad gambler. It took me quite a lot of hard work to prove to myself that my writing and performance abilities had the potential to expand beyond my hometown. We never had a major recording deal and our international touring experience grew very gradually – limited by the band's own resources and aspirations.
This album is not really an experiment. It just shows the current state of where the band is at in this moment. It's a mixture of our life experiences forged with a rather universal rock sound.
Our very good friend and owner of The Village Studios in Los Angeles, Jeff Greenberg, has pushed the idea of making an English language record – he once heard us recording our Russian material at his studio. After falling crazy for it he kept on us… saying, "Guys, this has to be heard in English". It took us few years to came up with an album and finally we arrived at Vladivostok.
The album presents Mumiy Troll's spirit to people who do not understand Russian. It is named after our home city where I and most of the band members grew up.
How has living in Vladivostok influenced your music (if at all)?
It has influenced in many ways. All of our songs have something to do with the Ocean and being from Vladivostok. You can understand that. I have even written a song named Vladivostok Vacation. In Russian it's called Vladivostok 2000 which has put the city on the map in Russia in a way. It has actually been quoted that this song did more for the city in terms of promotion than anything the government has ever done (which only used to be stereotyped before as a place for drunken sailors and lots of crime on every level). I always believed Vladivostok to be a place to Rock. Being almost 10 hours flight away from Moscow and 3 hours drive from China certainly affects your identity. I grew up to be an alien to my countrymen in general and to world music tastes in particular.
In your book, My East, you recalled that Khrushchev predicted in the year 2000, Vladivostok would become Russia's San Francisco. Do you believe his successors succeeded in this?
That's still only in our dreams. I have also co-written a fiction novel named Vladivostok 3000 which describes my vision of how the city could be in a totally different dimension. However, whatever the public criticism of the APEC summit, etc., I sincerely welcome and support all changes including new bridges and a new university into my hometown. My own graduation was in Chinese History and Economics and I remember discussing the futuristic visions of Vladivostok back in my student years. I never believed in the industrial revolution in the area but I was sure that it could be an Educational and Entertainment centre fed by the biggest Port on the Russian Pacific.
For a few years I was obsessed with the idea to stage a Pacific Rock Festival in Vladivostok where bands and artist from Siberia, China, Korea and the rest of Australasia would meet annually. However, the local government is still thinking of different priorities with their agendas (ed: see below – VROX Festival is now up and running).
Where was your first performance abroad as Mumiy Troll?
North of Japan we played a festival. It felt like home as it is very similar to Vladivostok weather wise. Also, Greenland where nobody had heard of us and they never really had rock bands come over to play a gig then. It was truly a memorable experience.
Who is your greatest musical inspiration?
Characters who can make it on their own terms. It does not relate to particular music styles and they are maybe not the biggest acts on the planet – probably more of those who can explore, change, unite different cultures without compromising pop sensibility… Ryuhci Sakamoto or David Bowie for instance…
You have sung your songs in Russian, Chinese, Japanese, and English, what is next?
Good question. By the way, I also did versions of our songs in Ukrainian and Latvian, though as of yet they have never been released… It's simply life experiments to see how it feels. I'd like to try Portuguese. Sounds funny but Portuguese and Russian have so many similar sounds which is kinda tough to pronounce for any others in the world.  
One of the things that we find most interesting is your support of AMUR (named after the Amur tiger). What is your goal with the AMUR project and why have you been so supportive of it?
The Amur tiger is a symbol of the area in the Far East that I come from. I was introduced to the head of the AMUR fund in London and was asked to help with some public awareness projects which gradually developed into quite a mission. Ten years later I [found] myself launching an idea. [It was] an international charity music/ball event, Saving the Tigers, which ended up being a part of an important International Tiger Summit in St. Petersburg – we not only had Vladimir Putin and Heads of States of the13 so-called "Tiger countries", but also celebrities like Leonardo DiCaprio. He personally donated a large sum of money to the cause and Naomi Campbell co-hosted the event with me. I compare Tigers to Independent music – rare, hard to survive, but brave and beautiful.
What were your expectations for this year while touring in the US and the UK, and has performing there been what you anticipated?
To reach out to non-Russian speaking communities we do not have any media resources behind us. So, the only way is to physically go their and play. For me, it's a big privilege to perform in front of people no matter where and no matter to how many. One day could see us performing to 10,000 hardcore fans in Russia and the next day in a small club in a ghost town of Pontiac to couple dozen people who just came to see us out of curiosity.
Does fashion play any role in how you wish to portray your band's musical style?
I always thought that music and fashion should walk together. However, I've never paid too much attention to what happens in the fashion world. I guess, like in music, I'd prefer things which never get out of fashion… I'd prefer to set the trend unintentionally instead of follow any.
'Flow Away' – Mumiy Troll – March '14
Do you have any favorite fashion designers?
My good friends from Britain – Bolongaro Trevor (who were the original designers of All Saints). Also, Arsenicum, the Russian brand by Dima Loginov who is a great example how our music really influence people to do things – standing out from the usual crowd by being very stylish and an instant classic.
And finally, as you travel from country to country, how would you define success?
By seeing results. You have to work hard for them and you have to work hard to be successful… to have genuine enthusiasm, passion and energy – and not to be so afraid of failure that it stops you trying. Because in the end, you learn from mistakes in order to keep going forward. That's what Iv'e always done. That's what I will continue to do. Keep moving.
What is your FAULT?
I trust people too much.
In August 2013, Ilya welcomed musicians, artists, and creative talents around the world to join him at the inaugural VROX Festival  in Ilya's hometown of Vladivostok, Russia.
In Spring 2014, Mumiy Troll will be releasing their second ever album in English, following the release of their first English-speaking album entitled Valdivostok. While Vladivostok was recorded in Los Angeles with highly regarded producers Joe Chiccarelli and Mike Clink, the new album was recorded around the world while the group took part in a global sailing voyage and again attracted the attention of top producers: Ben Hillier (Depeche Mode) Simon Gogerly (U2) Greg Brimson (Eminem) and Keefus Ciancia (T bone Burnett).
Upcoming Tour dates:
Liverpool, UK – 
Sound City Festival – 
May 1 
Vladivostok, Russia – V-Rox Festival – 
29 August
Shanghai, China – MIDI Festival – 
Oct 1
Creative Director / Photographer: Adrenus Craton
Interview by Adrenus Craton & Victor Savkin
Model: Charlie Melchiori – Novelmodels
Elite Hair: Michael Marenco  (sponsored by Label M)
Makeup: Cathy Widawska
Styling: Gillian Phelan
Film Director: Giovanni Fumu
Lighting Direction: Francois Dupont & Olivier Herold
Location: Chiswick House and Gardens
SPECIAL THANKS TO: Mumiy Troll Team Bolongaro Trevor London Victor Savkin Cato Music Creative Door Studios Paris Biondini Champs Élysées Givenchy Homme
MENSWEAR Bolongaro Treavor Avelon 22_4 Hommes Femmes by Stephanie Hahn Givenchy by Riccardo Tisci Glenn Martens Nanthalat
WOMENSWEAR Arsenicum Cassadei Gerbe
Introduction: Nick Artsruni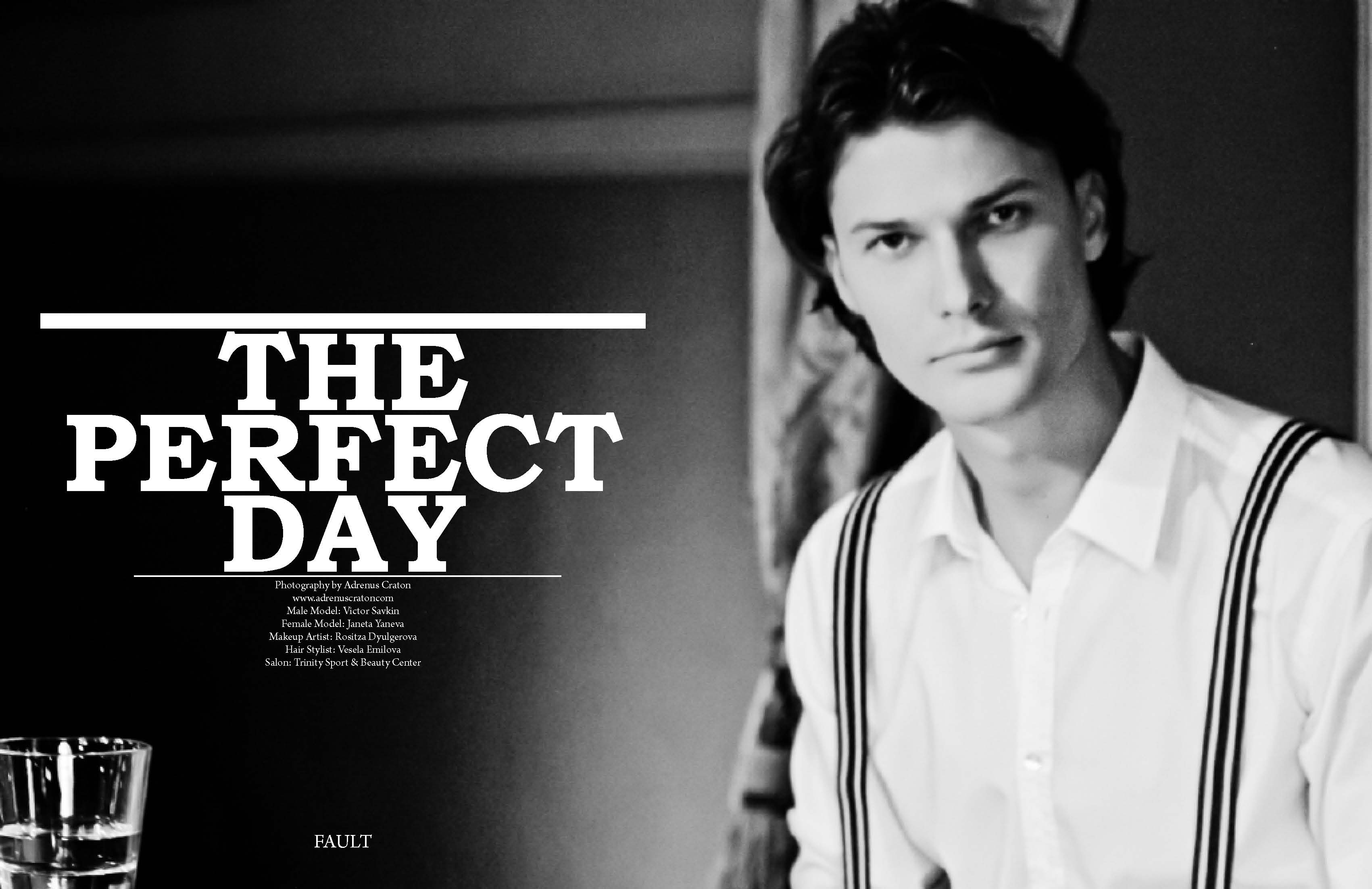 Sensuality, romance, attraction and magnetism: these along with many other ideas from Russian model, Victor Savkin, served as one of my two greatest inspirations behind "The Perfect Day" dream series. The story is that a man walks the empty streets alone, from early morning until nightfall. There is a girl appearing to him, bringing sunlight to his face as he offers her a flower. They dance in the street until they find themselves far away from the city where trains are making their journeys. He reads to her as they listen to the trains getting closer. In the evening, they have the most lavish spot in the city, all to themselves, where he sings to her. For him, it is the perfect day. Having felt the warmth of the time passing by, he awakens at the piano, only to realize it has all been just a dream.
Demi Moore collaborated with Brazilian designer Jack Vartanian, and using their DNA logo as inspiration, they created the beautiful handcuff necklace worn by the female model.Demi & Ashton Foundation (DNA) and the foundation's efforts to raise the awareness on human trafficking – and with this necklace Jack raised over 10,000 dollars in a few weeks, by donating some of the proceeds from the sale of these necklaces.
FAULT: Can you tell us the idea behind "The Perfect Day"?
Adrenus: The idea behind the shoot was to take a journey around the city through the eyes of a lonely man who spends the entire day alone. Everywhere he goes, he is  reflecting, imagining what it would be like to spend it with someone he loves. The black and white photos in this series are meant to capture his reality. The colour photos are of his daydreams with the girl of his imagination."
FAULT: What was the main inspiration behind the story?"
Adrenus: The main inspiration began first with the Russian model, Victor Savkin. We were first just going to make a few photos in the "studio style", but then he had so many ideas for this, it just developed into this really amazing storyline. It was so easy to imagine it all, so we thought it best to capture it in exactly this way… like a picture book telling the story without the use of words.
FAULT: How did you become involved with Brazilian designer Jack Vartanian?"
Adrenus: The Brazilian designer, Jack Vartanian first caught my attention when he collaborated with Demi Moore, designing a handcuff necklace reflecting the logo of The Demi & Ashton Foundation (DNA), with proceeds from this necklace going directly to their foundation. The Demi & Ashton Foundation (DNA) works towards the elimination of sex slavery worldwide and they have been an organization which has really gone above and beyond in their fight against human trafficking in the United States and other countries around the world. I feel it is important to join in spreading awareness of their incredible efforts so, when I received the necklace, it immediately became a part of the concept to "The Perfect Day". Recently, the Demi & Ashton Foundation lauched their "Real Men" Campaign, highlighting that Real Men Don't Buy Girls. So, in "The Perfect Day" the connection is that Real Men don't buy girls, because they know how to sweep a woman off her feet.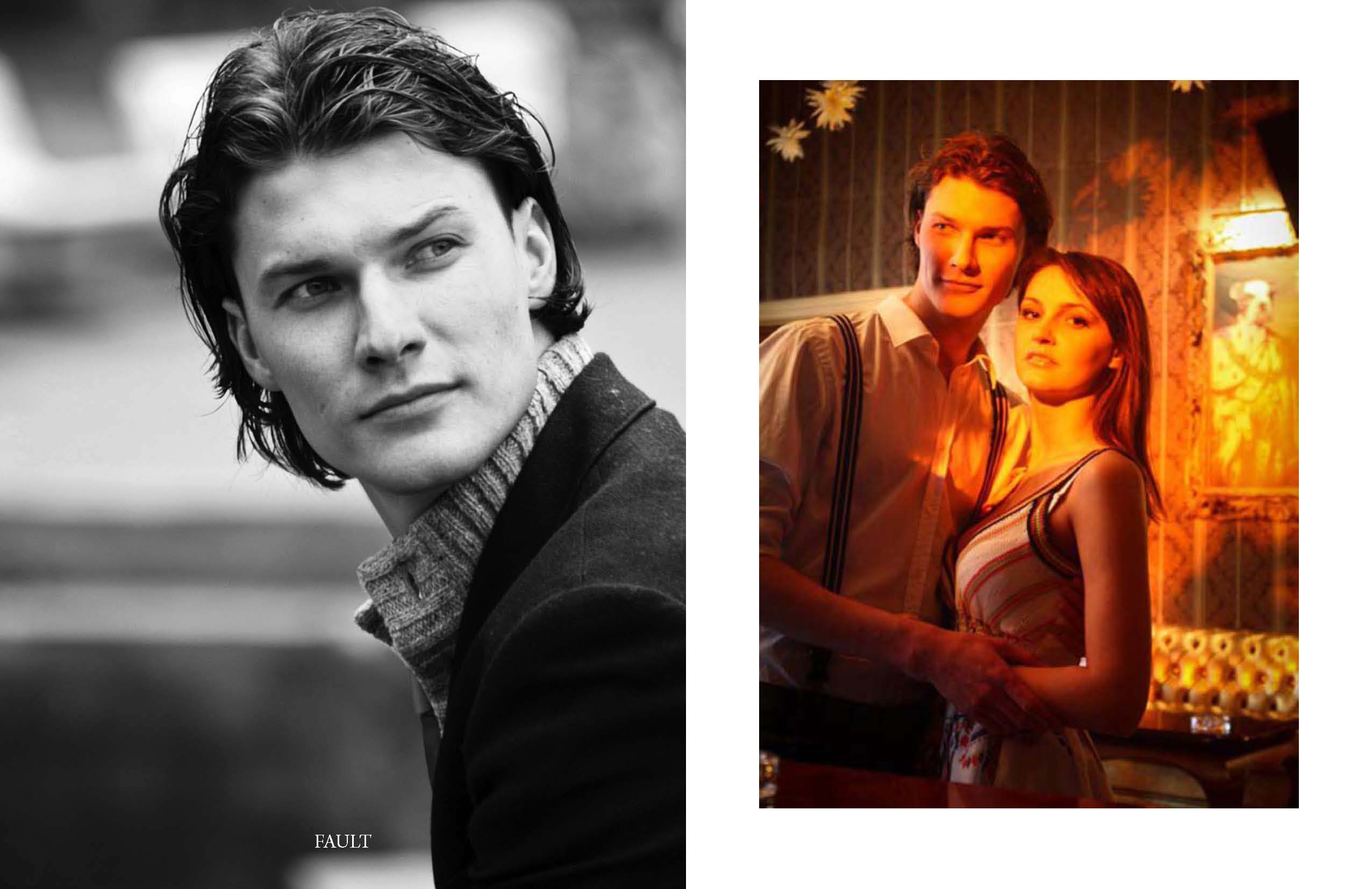 FAULT: Did you have difficulty finding and casting the perfect models?
Adrenus: It was actually quite easy to find the perfect models for this. Victor stood out immediately because of his height. He's taller than the average model at 6ft 5in (195cm) with such an easy face to photograph. So there is this rare combination of completely unusual & totally ordinary that made his look truly unique for this shoot. The female model, Janeta, was also a great choice because of her down to earth appeal. She matched perfectly with Victor, as being a part of his imagination.
FAULT: What are you currently working on?
Adrenus: Currently, we are working on a photo series for the end of Summer – again, it involves the jewelry from designer Jack Vartanian. He has also been working with an organization called Panthera.org, whose focus is on protecting wild and rare species around the globe. Jack Vartanian designed a collection of rings, necklaces and earrings reflecting the wild animals found in the Amazon. So, we have been using the spider ring and necklace as a part of our "Farewell Summer Wild" shoot on Bulgaria's Black Sea Coast. We actually just wrapped up shooting this weekend. We had a great time shooting, and fell in love with the clothes from Diane Von Furstenberg for the female models, Desislava Kasabova (Bulgaria) & Andreia Alexandra (Romania).
CANALI was the choice for the male model, Victor Savkin (Russia). It was a lot of work and I hope that the results will show it.
FAULT: Would you consider a career in filmmaking?
Adrenus: Well, the majority of my experience as a photographer has been in travel. For me, fashion photography is something that I only recently began since moving to Bulgaria.I would consider any outlet in which you can put your artistic talents to use. Last May, I held another art exhibition this time in Sofia at ANIMA Art Gallery, so really, there is no area that I'm not willing to explore whether it is art, fashion, design or even film.
FAULT: If you had the chance to photograph a dead icon, who would it be and why?
Adrenus: Hmmm, I would have to say Micheal Jackson. The reason? He is one of the very few people who has somehow managed to affect the lives of many generations, many different races and, nearly every single country around the world. As a child, I would watch him be interviewed on television and even at that young age, I felt he was someone special.How he managed to do it, I'm not entirely sure, but by holding onto the belief that every single one of us is extraordinary, rare and beautiful, we become more like him everyday. Yes, I would give anything (well, almost) to have some photo session with MJ.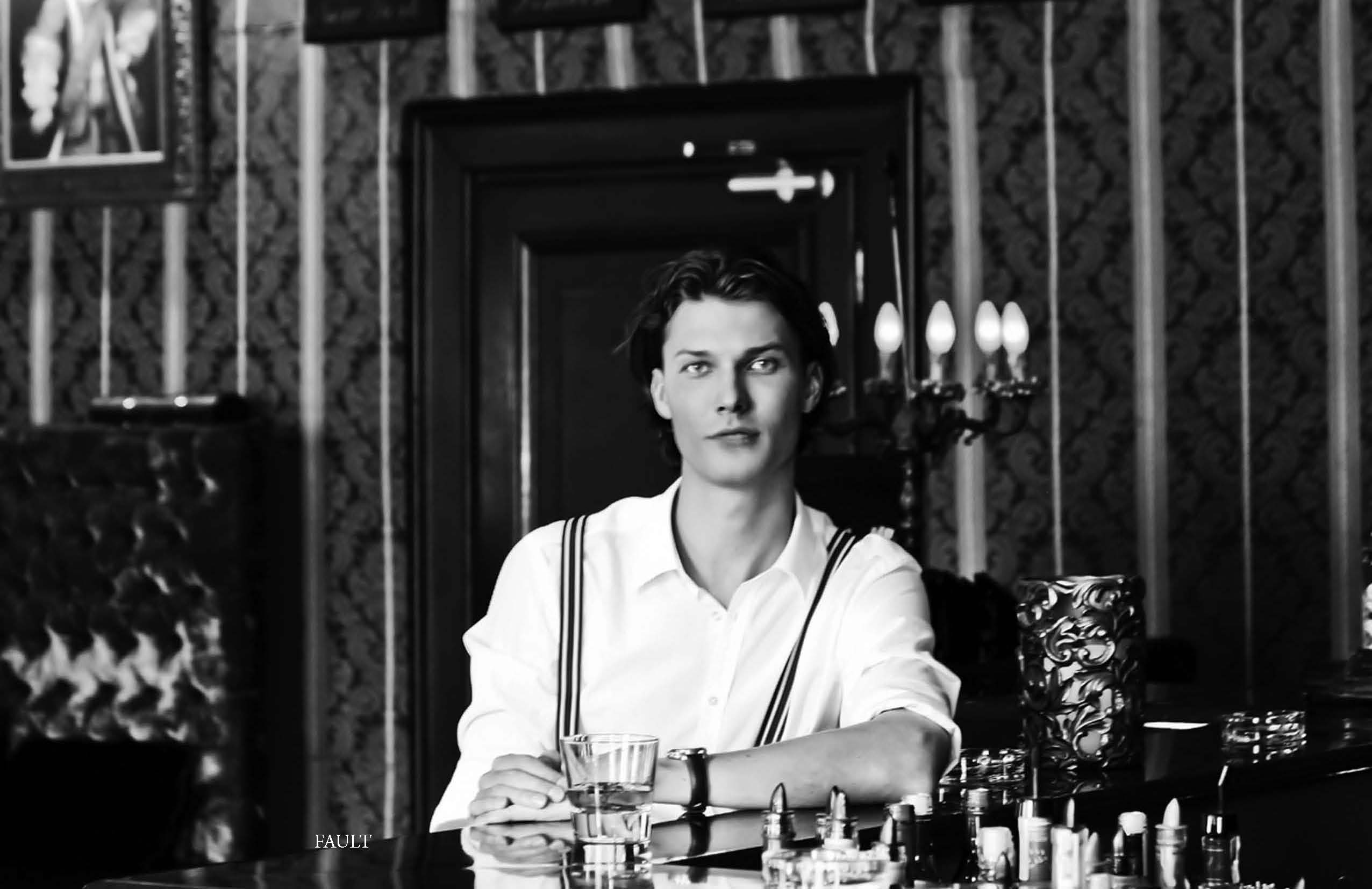 FAULT: Do you have an all time favourite magazine cover?
Adrenus: Let's see, an all time favourite… Other than your FAULT cover of issue 6 Yes, there is a cover I came across recently during one crazy non-stop travel week. While at the airport in Frankfurt, I picked up a copy of Russian VOUGE (May 2011) … of all the things that could have taken my attention, it was this cover that stopped me. I love opposites in combination, and this cover did it perfectly with tribal African, high-society and a touch of chic S&M – all in the one style. Maryna Linchuk photographed by Patrick Demarchelier, it is flawless and my all time favourite. In fact, I have it as an art piece on my living room table, and am considering having it framed.
FAULT: What is your FAULT?
Adrenus: Refusal to live in reality, because dreams are much more interesting.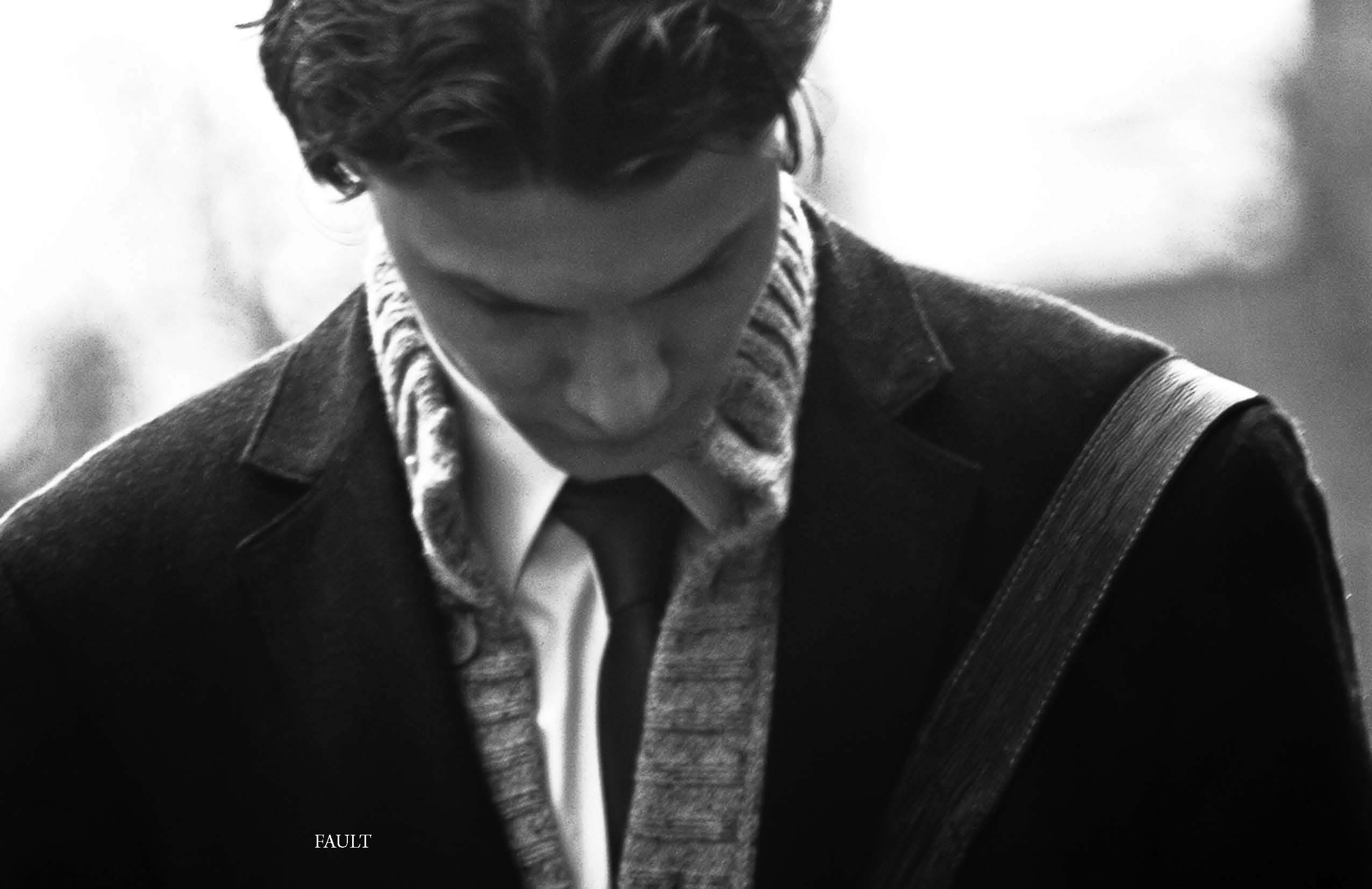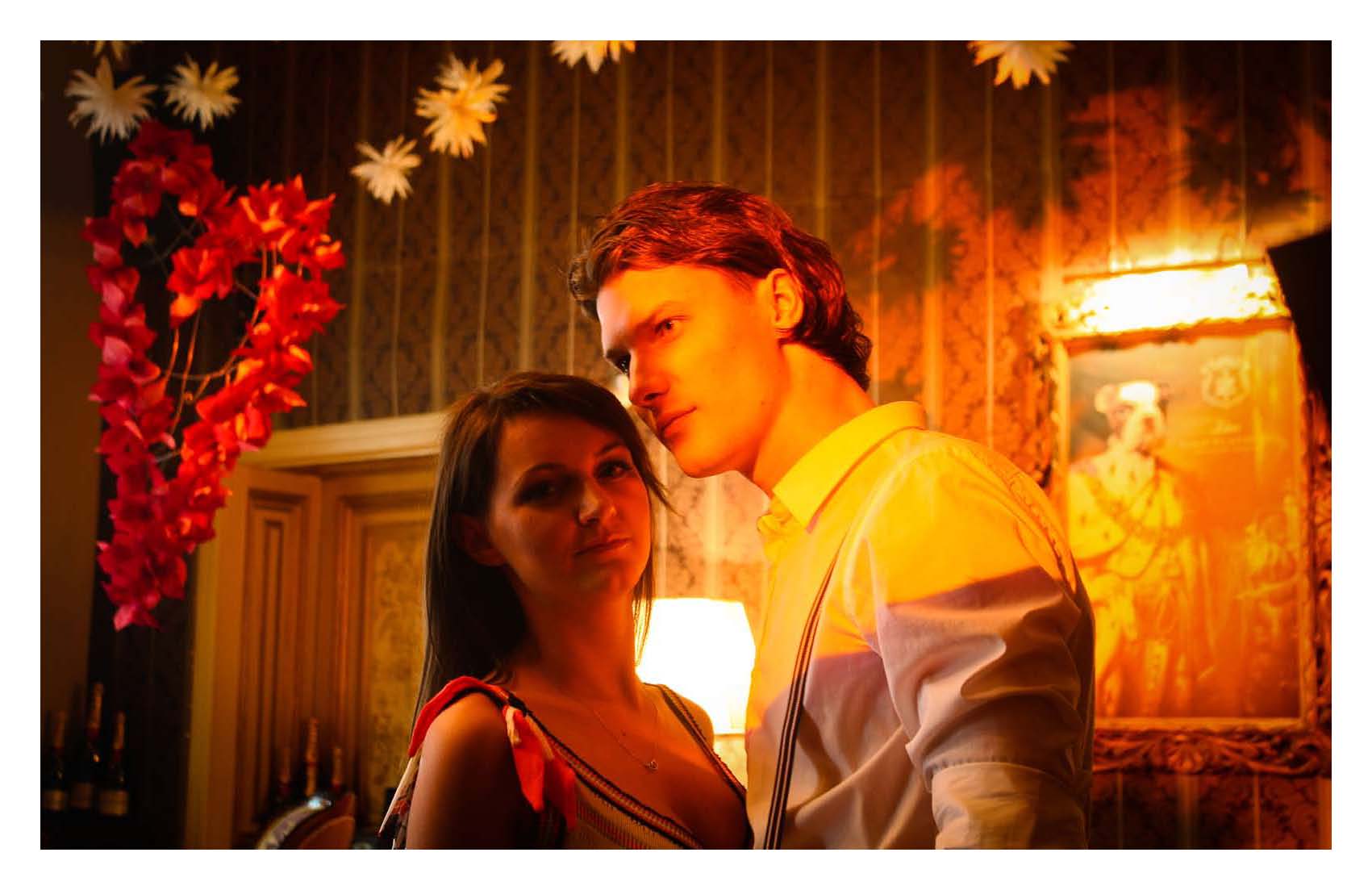 Photography by Adrenus Craton
Male Model: Victor Savkin
Female Model: Janeta Yaneva
Makeup Artist: Rositza Dyulgerova
Hair Stylist: Vesela Emilova
Salon: Trinity Sport & Beauty Center